Honeymoon Suite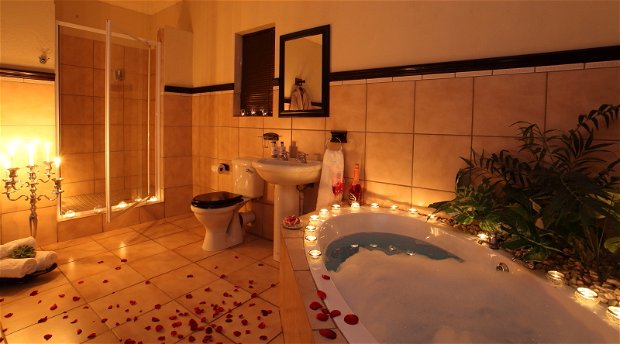 Experience romance in our Double Deluxe Room at Celtis Country Lodge. This first-floor retreat offers a king-size bed, air conditioning, DSTV, and Wi-Fi, ensuring uninterrupted comfort with solar power.
Indulge in a spacious bathroom and enjoy a captivating garden and pool view. Elevate your stay with a romantic turn-down service, featuring sparkling wine, chocolates, and candles at a small extra cost.
Surprise your loved one and book a candlelit dinner under the Karoo stars. Start your day with breakfast and the best coffee by the pool or in our lush garden. Enjoy ultimate Karoo hospitality at Celtis Country Lodge.
Indulge in the epitome of luxury and romance with our Double Deluxe Room at Celtis Country Lodge & Restaurant. This spacious retreat, located on the first floor accessible by a charming staircase, is designed to provide an enchanting escape for couples seeking a romantic breakaway.
The room features a sumptuous king-size bed, ensuring a restful night's sleep, while modern amenities such as air conditioning, DSTV, and Wi-Fi ensure you stay connected and comfortable throughout your stay. Say goodbye to power interruptions with our solar system, guaranteeing uninterrupted lighting and television access at all times.
The large bathroom offers a touch of opulence with a separate bath and shower, providing the perfect setting for relaxation and rejuvenation. As you enter the room, be captivated by the stunning view overlooking our lush garden and inviting swimming pool, creating a picturesque backdrop for your romantic retreat.
For an added touch of romance, consider arranging a special room turn-down service at a nominal extra cost. This enchanting experience includes sparkling wine, delectable chocolates, and the soft glow of candles, setting the stage for an unforgettable evening.
Elevate your stay further by surprising your loved one with a bouquet of fresh flowers from our local nursery. Our front desk will be delighted to assist in making this thoughtful gesture a reality, ensuring your partner feels truly cherished.
As the day transitions into night, book a romantic candlelight dinner under the endless Karoo stars at Celtis Restaurant, creating a magical ambiance for you and your special someone. Start your mornings with breakfast and a cup of the finest coffee in town, served around the pool or in the lush garden under majestic trees. The delightful sounds of chirping birds in the background add to the idyllic atmosphere, creating the perfect start to your day.
Immerse yourselves in the best Karoo experience and hospitality at Celtis Country Lodge & Restaurant, where every detail is crafted to spoil and pamper you and your loved one.